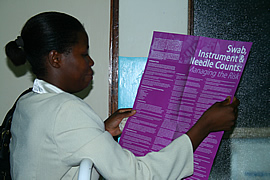 Welcome To Friends Of African Nursing
Welcome to the FOAN website, please take some time to learn about what we do, the difference our work makes to developing countries and what we have been up to recently. Please help support our work with a donation, buying from our online shop, or becoming a member.
Latest News
Here's some of our latest news;
World Patient Safety Day - 17 September 2020..
A global campaign is being launched by the World Health Organisation (WHO) on 17 September to highlight and emphasise the importance of healthcare worker safety. As a pre-requisite f..
Recently Available File
Here's our most recent file;
Latest FoAN Report
View our latest activity report;
2019 Annual Report..
Annual Report..