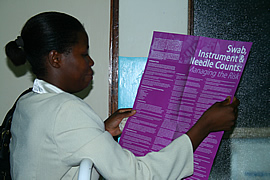 Welcome To Friends Of African Nursing
Welcome to the FOAN website, please take some time to learn about what we do, the difference our work makes to developing countries and what we have been up to recently. Please help support our work with a donation, buying from our online shop, or becoming a member.
Latest News
Here's some of our latest news;
See You At The AfPP Residential!..
We are delighted to once again have a stand at the Residential meeting of AfPP - their annual meeting for education and professional development. Dot and Kate hav..
Recently Available File
Here's our most recent file;
Latest FoAN Report
View our latest activity report;
Visit To Lesotho 2017..
Lesotho report 2017..